Resume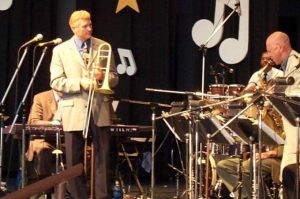 JAY HARRISON has been performing professionally for over thirty-five years, during which time he has obtained a wide variety of musical experience.  Jay has been a member of The Ottawa Symphony, Nepean Symphony and The CBC Recording Orchestra as well as The Albion Brass Quintet.  He has performed with such iconic entertainers and musicians as Tony Bennett, Dionne Warwick, The Canadian Brass, The Platters, The Four Freshman, Bob Hope, Engelbert Humperdinck, Red Skelton, Valdy, Peter Appleyard, Michelle Wright, Wayne Ronstad, Maureen Forrester, Sonny Stitt , Red Rodney, Rob McConnell, James Moody, Martha Reaves and the Vandellas, Bobby Vinton, The Temptations, The Shirelles, Kenny Rogers, Joel Grey, Bobby Curtola and Wayne Newton.
While residing in Ottawa, Jay recorded with Solid Brass, The University of Ottawa Jazz Ensemble, The Champ Champagne Orchestra, The Vernon Isaac Big Band, Rejean Gauvreau Big Band ,The Bill Jupp Big Band and Stevens and Kennedy.  As leader of Duo Bones, a mainstream jazz quintet featuring two trombones and rhythm section, Jay performed a wide variety of club work, as well as being featured in the Ottawa International Jazz Festival for fourteen consecutive years.  In 1985 and 1989, this group was recorded live at the festival by the CBC for subsequent radio broadcasts on the national networks' "Jazzbeat".
As Musical Director of The Vernon Isaac Big Band, Jay led the ensemble at nine Montreal Jazz Festivals, TheQuebec Worldbeat Festival, as well as extended engagements at the Penguin Club and Mexicali Rosa's in Ottawa.   As leader of the eclectic Jay Harrison Big Band, Jay completed successful engagements at 4 Ottawa Jazz Festivals, The Hull, Quebec Festival of Jazz and Blues and numerous private functions.
Sgt Jay Harrison (retired) was the featured trombone soloist and vocalist with the Central Band of the Canadian Forces (Ottawa) for fourteen years, as well as the Musical Director of the 18-piece Ambassador's Stage Band from 1990 to 1994.   From 1994 until his retirement from Canadian Forces Band Branch in 2000, Sgt Harrison was the featured trombone soloist and vocalist with the Air Command Band of Canada (Winnipeg), as well as the Musical Director of "Rhythm in Blue" Jazz Septet and Dance Orchestra.  These ensembles performed at festivals, concerts, dances and receptions throughout Canada, the USA and Europe.
Jay has been the lead trombonist with the Ron Paley Big Band Paley since 1994 and was featured on his CD "It's About Time", as well on the popular Salsa Band Combo Latino's CD entitled "Ritmos Calientes", recorded in collaboration with the CBC.  Jay Harrison released his own CD "Soon" in conjunction with the Jazz Winnipeg Festival, at which he has made 16 appearances as a bandleader. On this recording Jay is featured on vocals, alto, tenor and bass trombones, trumpet and flugelhorn. With this rare ability to perform at a professional level on multiple brass instruments, also including tuba and euphonium, Jay is in great demand as a highly respected educator, conducting numerous workshops and brass clinics throughout Manitoba annually.
Jay also leads a number of his own ensembles including Big Jay and the Jive Flyers, The Dixie Demons, The Jay Harrison Big Band, Dance Band and Jazz Quartet.
Jay Harrison is formally the Vice-President of the Ottawa/Hull District Federation of Musicians' and Director of the Music Performance Trust Fund for Eastern Ontario and Western Quebec, booking over $300,000 in hundreds of engagements annually. Jay was recently elected by President and Secretary–Treasurer Delegates from Union Locals across Canada to the Executive Board of the Canadian Conference of Musicians, the representative body of all Canadian Music Unions, for a second consecutive term. In this capacity, Jay has developed solid personal and working relationships with Music Union heads from coast to coast as he represents and advocates on behalf Manitoba musicians. During the last 17 years, Jay has held the positions of Executive Board Member, Vice President, President, and as of November 1, 2016, he was appointed to the Office of Secretary-Treasurer of the Music Professionals of Manitoba, Local 190 of the Canadian Federation of Musicians.